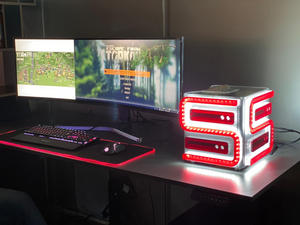 Servers.com CNC Machined Small Form Factor Gaming PC Case RTX 2080Ti FE Build
Often companies or manufacturers come to Mnpctech to create unique custom gaming PC's and or case mods to promote their hardware brand or new game release. The most popular way to promote your brand is by hosting a giveaway of the custom gaming PC mod made by Mnpctech.
Servers.com wanted a custom gaming PC that reflected their branding, so it could be displayed at events. We used their logo for inspiration of the PC. 
Three main benefits of Mnpctech custom gaming PC's for giveaways:
Boosts exposure of your brand or new game release.
Creates engaging content for your fans and followers.
Giveaway entries must register on platform of your choice. 
The video highlights the final Assembly of Servers.com 100% CNC Machined Small Form Factor Gaming PC Case RTX 2080Ti FE Build. This is the 2nd gaming PC case Mnpctech had built for Servers.com. This one was planned to be revealed at GDC Game Developers Event, but it was cancelled due to concerns over Corona Virus / COVID-19. We're hoping the event is re-scheduled for this summer. 
This Small Form Factor (SFF) ITX custom gaming PC was inspired by the Servers.com logo design. The entire construction of the case was 100% CNC milled. The side panel for RTX 2080 TI FE video card was made from 4" thick block of aluminum. This custom "scratch built" SFF gaming PC build features Intel's latest Core i9 9900 processor.
Here are the stages of a custom gaming PC mod build by Mnpctech
Design? We will have a brainstorming session with client first. What is your primary goal with this custom gaming PC? Display for an event? Marketing a new product launch? A giveaway to coincide with new game release. 
Price Quote?

 Cost will depend upon complexity of the PC. Every build we do is different from the last. Mnpctech will outline all of the mod costs in a Quote. 

Turnaround time? It's always best to give us a 3 - 6 month lead time. We have delivered more basic PC mods in shorter time frames.  
Shipping? We will create a custom double wall shipping carton for your PC. If it's a custom water cooled build in the states, we'll ship the carton strapped to a wood skid via UPS transport truck. If you're overseas, we'll ship your custom gaming PC International Air. If you prefer FedEx or DHL, we will ask for your account number.  
During the video, Mnpctech's owner Bill Owen shares installation of Silverstone PF120 AIO cooler with additional 120mm Corsair SP fan and Black PVC mesh screen cooling fan filter. Installation of 1 TB M.2 drive by Gigabyte innthe Gigabyte Auros x370 Wifi Pro motherboard and 32GB G.Skill TridentZ DDR4. Custom 5" Touchscreen LCD ITX and 24 pin billet cablemod combs made by Mnpctech. These billet PC cable combs are often used on variety of individually PC cables by CableMods, MDPC-X, Mainframe Customs, Ensourced.net and other brands that include computer cases that have include MOD-ONE, TitanRig, Fractal Design cases, Cooler Master cases, NZXT cases, Corsair PC cases and new or vintage stereo components Marantz, Pioneer and LUXMAN.
Here's some of the PC modding resources used in this PC build.
Buy ZigZag LED strip from this PC build on Amazon. 
---
1 comment