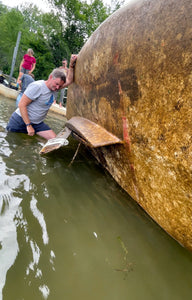 How To Fix Repair Sailboat Centerboard Line Rope
How To Fix Repair Sailboat Centerboard Line Rope
Yourself By 

Careening your Sailboat.

 This video guide shares "How To Tip Your Sailboat And Fix or Replace Your Sailboat Centerboard Keel Line.

At some point during the ownership of a vintage sailboat, you will be faced with having to make this challenging repair. You can either bring your sailboat to a local Marina with a lift or do this technique which is "Careening" your sailboat. The individuals in the video guide are using an O'Day 21 Sailboat, but the method can be applied to any Daysailer size sailboats. I've witnessed this centerboard swing keel repair done on many different sailboats that include Hunter 15 Sailboats, Catalina Sailboats, Laser Sailboats, Hobie Sailboats, Sage Sailboats, Norseboat Sailboats, Fareast Sailboats, Lido Sailboats, Lockley and Newport Sailboats, and Montgomery Sailboats or Rhoads and Flying Scot Sailboats.

The rope that drops and pulls up the Sailboat centerboard / keel will eventually deteriorate from usage and outdoor elements. The original sailboat centerboard in this O-day 21 line had lasted over 30 years! This video illustrates the easiest way to tip your sailboat with help from friends so you can gain access to the swing keel and replace your sailboat's centerboard line / rope. We are using the main halyard line to pull and tip the sailboat on it's side. Don't worry, you won't bend your sailboat mast which concerns watchers. A sailboat's mast is designed to handle force and pressure from the main sheet while you sail.

There's been a lot of feedback surrounding this video guide for replacing your sailboat centerboard rope. One side of the public warns "This is too dangerous, you can bring your sailboat to a Marina and pay for a Lift" while others say "This is how Sailers over the decades have made their repairs when you're away from any public resources." Not everybody who sails can afford to run to the Marina service whenever something goes wrong with their sailboat. In Minnesota, we are a sailing community of Do-It-Yourselfers! We don't have any resources on land that offer sailboat servicing. We always try to help one another with upgrades and repairs to our sailboats.
---