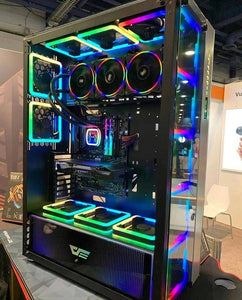 DARKFLASH DF800 E-ATX FULLL TOWER CASE REVIEW
Join our darkflash case owners group, https://www.facebook.com/groups/1499266210280985
DARKFLASH DF800 E-ATX FULLL TOWER CASE DETAILS. 
Darkflash is making this Epic full tower for custom PC building enthusiasts. It's called the darkflash DF800. We had hoped to receive a sample to review on our Youtube channel, but darkflash has told us they've decided not to sell the darkflash DF800 in the United States because "It's easily damaged during shipping" 
Based on interested we're seeing for this case, it would be worthwhile for darkflash to solve the issue during shipment with improved packaging. If you're seriously interested in a DF800, please tell darkflash directly HERE
If you're in Vietnam, you can order the darkflash df-800 HERE ($133.00)
Hopefully there's enough interest to change their minds about offering the df-800 in the united states. In the meantime, we've done some research to find out as many details as possible about the case. The details and specifications may have changed with the final retail version of the darkflash DF800 E-ATX full tower. 
In May of 2020, @darkflash_official post this photo of the darkflash DF800. Notice in above photo that the power supply cover lacks the RGB LED grid from the manufacturer renderings we've published on this page. Rumors online state that darkflash was infringing upon a patent for the RGB LED grid, so it may have been removed from the final retail version.   
The darkflash df800 full tower has tempered glass side panels on the front, and left and right sides. The front is equipped with two USB 3.0 and two USB 2.0 input / output ports with headphone and microphone ports.
The power and reset switches on the darkflash DF-800 are illuminated with RGB accent rings. 
Finding a consumer retail full tower with massive storage capability is like finding a Unicorn today. The darkflash DF-800 full tower allows you to install up to sixteen 3.5" hard drives. The only other full tower alternatives that come to mind are the Corsair 1000D (4x 3.5" drive bays) and Phanteks Enthoo Elite (13x 3.5" drive bays), but both of these towers have premium retail prices of $425 plus.
The darkflash DF800 is engineered to provide the best airflow options in the PC hardware industry. Whether you prefer Negative or Positivie pressure cooling for your PC system, the daerkflash df-800 gives you several options for 120mm or 140mm cooling fan and PC radiator configurations. 
Here are the darkflash DF800 specifications we know at the time of this article.
Darkflash DF800 Case Size: 552mm long x 271mm wide x 756mm tall
Shipping Carton: 650mm long x 365mm wide x 825mm tall
Case material: 1.0mm SPCC
Front I/O: USB 2x 3.0 / USB 2x 2.0 
Motherboard: E-ATX, ATX, M-ATX
HDD / SSD: 9x / 7x
Expansion Slots: 9
Maximum Video Card Size: 468mm
Maximum CPU Cooler: 219mm
Power Supply: Up to Two ATX Power Supplies.
Water Cooling Radiator Specs Darkflash DF800:
Front: 240mm / 360mm / 420mm / 480mm 
Rear: 240mm / 280mm  
Top: 240mm / 360mm / 420mm / 480mm 
PSU: 240mm / 360mm / 420mm / 480mm 
PC System fan Sizes Darkflash DF800:
Front: 6x 120mm / 5x 140mm
Top: 3x 120mm / 3x 140mm 
PSU: 3x 120mm / 3x 140mm 
Rear Upside: 3x 120mm / 3x 140mm
Rear Downside: 2x 120mm
Bottom: 3x 120mm / 3x 140mm
Highlights include four sides of tempered glass on the darkflash DF-800. You can install up to 20 Fans in the darkflash DF-800 case. 480MM radiator support in the darkflash DF-800 full tower case. Install up to sixteen Hard drives or SSD's and two Power Supplies. The darkflash DF-800 features dazzling A-RGB LED Board, E-ATX Mainboard support.
Join our darkflash case owners group, HERE
---
5 comments