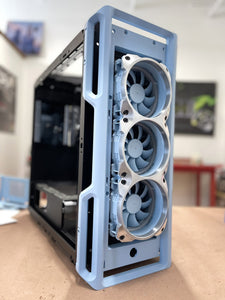 Building the Mnpctech Corsair iCue 5000T Gaming PC, "Retro Futurism" Case Mod"
My Corsair icue 5000T build will stand out further from the crowd by utilizing stainless steel hard line tubing for water cooling the Intel - Core i9-12900K Desktop Processor. I chose this type of tubing because it's bright metallic finish is aesthetically pleasing. It doesn't absorb dirt, smudges, fingerprints or scuffs, making maintenance very easy. The biggest advantage to using stainless for PC water cooling is it's corrosion resistant properties, so you can use distilled water in your water cooling loop. It also resists bacteria and germs making it ideal choice for hygiene-conscious environments, hospitals and medical care centers.
 I recommend the 600 series bender by Rigid Tool, or Imperial brand tube benders, these are the lowest cost.
Type of stainless tubing I'm using for PC water cooling is T-304/304L, Seamless Tube in 0.5" x 0.035" x 0.43"
Tools & Supplies Used in this Guide:
*RIGID 600 Series Tubing Bender
*Table Vise with Terry Cloth towel, to avoid scratching tubing.
*Micro Hand File
*Hacksaw with Bi-Metal Cutting Blade
*Table top grinder
*50 grit sand paper
Painting and weathering Cyberpunk era decals.
Custom painted cooling heat sinks and shrouds on the ASUS Strix z690 Prime INTEL 1700 motherboard for the Corsair 5000T Custom Gaming PC build.
Corsair Hydro X Series XG7 RGB 30-SERIES REFERENCE GPU Water Block (3090, 3080 Ti, 3080) with custom #retrofuturism #cassettefuturism mods and paint by Mnpctech.
Pictured above was the progress stage of the Corsair 5000T Gaming PC build on 6/13/22. You can watch overview video of the case mod made by Bill Owen. Bill had been busy with other client PC builds for marketing new PC game releases at the time. 
Next stage planned was how to route out the liquid cool tubing and hoses inside the Corsair iCue RGB 5000T build and case mod for display.
Corsair 5000T Custom water cooled PC Build & Case Mod by Mnpctech
Here are the Hardware Specifications Intel Core i9 12900K. Asus Z690 Prime Motherboard, 32GB Corsair Dominator DDR5, ASUS ROG 3070Ti with Corsair Hydro GPU Water block. Corsair 850W PSU. Corsair 2TB M.2 Drive, 2x Corsair 360mm PC water cooling Radiators. Corsair Hydro CPU Water block. Corsair Hydro XD3 RGB Pump / Reservoir (This pum is actually very quiet. Corsair 12mm O.D. Hardline Compression Fittings. 12mm Stainless Steel Tubing for Water cool Loop. 7" HDMI Motherboard header LCD Screen with Aida64. 3.5" GoOverlay LCD in Corsair PSU Shroud. Mnpctech 360mm Overkill Custom CNC Machined Aluminum Radiator grill. This Corsair 5000T iCue RGB Custom case Mod will be on display at Corsair's new World Headquarters in California. Over the past decade, Bill Owen has created and built several PC case mods for Corsair to display at PC gaming events. These PC hardware and PC gaming centric events have included Pax East and Pax West, Comic-Con, Computex, and CES in Las Vegas. In 2009, Corsair hired Bill Owen to oversee the design of their new 400R Mid tower case by Corsair. Bill owns Mnpctech and has been doing custom PC case mods for past 22 years from his workshop and studio in Minneapolis, Minnesota. Several of Mnpctech and Bill Owen's unique custom gaming PC builds and PC mods are utilized to promote and market new PC game releases and PC hardware products. Often Bill Owen's custom gaming PC builds and PC mods are offered in online giveaways to help boost exposure of PC games or game expansion pack releases. You can see and purchase custom PC case mods and upgrades for your own PC from Bill's online PC Case Mod Store, Mnpctech.com
---
1 comment