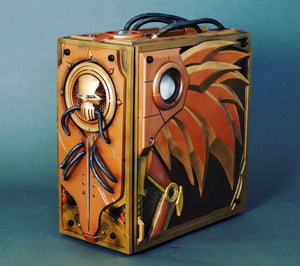 Boost Your PC Game's Wishlist With Mnpctech Gaming PC Mod Giveaway.
When it comes to launching a new PC game, every developer and publisher knows the importance of having an effective marketing strategy. But in today's competitive gaming landscape, it takes more than just effective marketing to capture the attention of players. That's why many developers and publishers are now turning to Mnpctech and its talented team of influencers for help. Mnpctech's influence can help you boost awareness for your new PC game's wishlist and release date—and even catapult it into the spotlight with highly-engaging PC mods that reflect the environment of your game.
Intel ARC Alchemist Steampunk theme game PC Mod for giveway.

Mnpctech specializes in creating custom gaming PCs inspired by the environment of your game. Bill Owen is one of their top influencers and he has a large fan following on social media platforms like Instagram, Twitter, YouTube, and Twitch. His unique builds often feature hardware from leading companies such as Intel, Asus, Nvidia, Corsair, and more. By working with Bill to create a custom mod based on your game's theme, you can excite fans and followers while also giving away prizes that will have them clamoring for more information about your upcoming release date or wishlist.

Not only do these custom builds help generate excitement around your upcoming release date or wishlist—they also give you an edge when it comes to getting noticed on social media platforms like Twitch or YouTube. Players love seeing these customized rigs in action as they fight their way through virtual worlds or challenge each other online in popular games such as League of Legends or Overwatch. And since Mnpctech is able to build these custom rigs quickly, you won't have to wait too long before you can start using them in streaming sessions or giveaway campaigns.


Mnpctech is also experienced when it comes to working with developers from all over the world—including those based in China, Japan, Korea, Ukraine, Poland or Russia—so no matter where your development team is located they will be able to help bring your vision for a customized rig to life. Plus they offer competitive prices so budgeting won't be an issue either!

The team at Mnpctech is ready and willing to work with developers from any country around the world who want to use custom gaming PCs as part of their launch strategy for their PC game release date or wishlist campaign. With Bill Owen's influence behind them and his significant fan base on social media platforms like Instagram and Twitch, Mnpctech's PC builds are sure to capture the attention of gamers everywhere—and get them excited for what's coming next! So if you're looking for a way to give your upcoming game launch a boost on social media platforms then definitely consider hiring Mnpctech for some awesome custom rigs inspired by the world of your PC game!

​
---