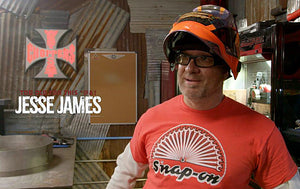 New MONSTER GARAGE REBOOT S2021 Eight Episode Guide.
On February 24, 2020, it was announced that Jesse Jame's Monster Garage series would be re-booted and premiere in 2020 on TLC. This was delayed due to the COVID-19 pandemic. It eventually premiered on Discovery, Inc.'s new streaming service Discovery+ on January 4, 2021.
I signed up with Discovery+ on 1/6/21 for $6.99 per month without any ads. You can watch the first three episodes on this app before they air on Discovery channel. There is a total of eight episodes of the new 2021 season of Monster Garage. I've posted an overview description with photos of each new Monster Garage episode below. 
I created this simple episode guide as I'm a fan of the original Monster Garage series. I own all of the DVD box sets released by Discovery Channel. I also own these Monster Garage "How to" books that were released during the series.       
NEW MONSTER GARAGE REBOOT Episodes & Vehicles.
S1 E1, Pulsating Power 1/02/2021
This is episode one of the new season reboot of Monster Garage. The show opens with the return of announcer Schwag's voice! Then we see little person, Body Drop dressed like a chauffeur. He opens the door on rusty a Jaguar with Jesse sitting in the back seat. "Everyone asked when I'm bringing the show back?" Body Drop welcomes Jesse back with a fist bump. I assume Body Drop will be fulltime as comedic relief for this season.   
In this premiere Jesse gathers a crew of five skilled people to install a 12ft pulsating rocket engine in a 1965 Jaguar. "I can't believe it's been 14 years" Jesse says as he forgot how grueling these builds can be. 
If you're hardcore Monster Garage fan like me, the format is exactly the same. There's a good mixture of people and drama over finishing the car on time. Jesse remarks this crew might get a small Cresent wrench from Walmart instead of the Snap-on tool boxes. It's cool to see the same format return flawlessly, but I  do hope Jesse implements some new things to surprise us. I give premiere episode of Monster Garage 10 out of 10 stars for feeling like it never left us.  
S1 E2, Shuckin' Dragster 1/02/2021
This is the 2nd episode of the new season of Monster Garage. Jesse tells this crew he wants to transform an International Harvester machine into a Hot Wheels style dragster. Everyone is excited for this challenge and ready to work!
Tearing apart the Combine / Corn Chucker takes two days. This is the longest vehicle tear-down in the history of Monster Garage. 
Monster Garage crew member, HOGBEAR Terry creates some good drama in this episode. His antics in breaking or losing crucial parts are hurting the momentum of the build. We're introduced to him using a garbage can lid to protect his head from sparks during tear-down of the International Harvester.   
HOGBEAR's goof-ups are pushing Jesse's patience to the limit. Jesse learns the sheet metal backing for the Harvester's steering column is missing. Jesse asks HOGBEAR if the part was thrown in the dumpster? HOGBEAR says he didn't throw anything in the dumpster. Jesse walks out to dumpster and tells him "I'll look while you go back to fiddle fuckin whatever you're doing." HOGBEAR responds with "You go fiddle fuck too then." Jesse finds the missing part in the dumpster which escalates to a bigger confrontation in the garage. 
After the Drag-bine is finished, Jesse brings it to a local farm to race a stock International Harvester in a corn field. There's a hot headed farmer taunting Jesse that he would lose a race between them! I think this angry farmer was inspired by HOGBEAR. "Shuckin' Dragster" is a great Monster Garage episode. It has a good mixture of edutainment and drama. I learned a lot about diesel engines and heavy duty farm equipment. Watching Jesse get annoyed by HOGBEAR added some drama. The final result of the build is awesome. It does look like a Hot Wheels car! I give the 2nd episode of the new Monster Garage 10 out of 10 stars. It has every element that makes the series great.   
S1 E3, The Sailboat Sleeper 1/02/2021
In episode 3 of the new Monster Garage series Jesse James wants to create a "Sleeper Sailboat" with a hidden V8 engine and enter it a sailing regatta race. Everyone expect "Sailor Grant" from New Zealand on the build team is disappointed. They anticipated seeing a car to modify instead of a sailboat. 
A sailboat in the garage?! In this episode of the new Monster Garage we really see the team pushed against the deadline. 
Another episode of somebody digging in the trash for a missing part. There's always one team member on Monster Garage who annoys everyone. Sailor Grant holds up progress by losing part and getting in everyone's way.  
Jesse notices there's foot prints on the chrome engine injector blower hat. "I might of done that" responds Sailor Grant, wearing an Aquatic Ed shirt.  "I'm gonna fuckin smack someone if I see them do that" Jesse grumbles at Grant.   
Jesse James tells audience "Unfortunately this was Monster garage failure number 8" as we see the sailboat in the middle of the Arizona desert.  Episode 3 of the new Monster Garage ends with the best destruction of a failed build in Monster Garage history. Two military grade helicopters spray the sailboat with red hot 3,000 rounds of ammunition per minute. Jesse is co-piloting a MD 530G Scout Attack Helicopter and backed up by BELL 407 Multipurpose Utility Helicopter. I give the 3rd episode of the new Monster Garage 7 out of 10 stars. You learn some interesting elements about propulsion, but you could tell the team wasn't thrilled about doing the build.    
S1 E4, Fire-Breathing Corvette 1/11/2021
Jesse tells the team that they will be building a "wood powered corvette"
Shwag gives the audience a lesson on how a gasification and gasifier fuel system works. It was a popular modification to large vehicles like buses and ships during the fuel shortages in World War II.  
Jasmine feels frustrated that she's not being guided by the twin brothers (wood nerds) on specific tasks she should be handling. Jesse explains to the audience that some build teams need management. In this project, the two brothers are holding all the cards on what needs to be done. They should be guiding their team members, but they're used to working alone. You've only got two days left, and nobody fully understands their roles and how a wood burning fuel system works. 
Final five hours the brothers struggle to get the right one-to-one air and fuel mixture to make engine run. Jesse watches in frustration "They don't have a clue what they're doing."
Jesse James notices the starter starts smoking. Jasmine jumps under the car to replace the starter. Luckily the brothers get it to run with 11 minutes to spare on the clock! Jesse says "damn, I was looking forward to blowing it up!"
Jesse pushes the gasification wood powered Corvette into a BBQ Rib contest and asks for spare wood. After enjoying and judging one of the BBQ contest entries, Jesse wants to see how fast this Corvette can go? We see one of the brothers armed with a radar gun alongside a long country road. The wood burning Corvette clocks in 71 mph! That's pretty damn impressive for wood fueled car. I give the 4th episode of the new Monster Garage 10 out of 10 stars. You learn about wood fueling a combustion engine and good drama right down to the wire. 
S1 E5, Jesses' Shiner 1/18/2021
In episode 5 of the new Monster Garage, Jesse pays tribute to the era of Moonshine runners and outlaws. Prohibition in the United States was a nationwide constitutional ban on the production, importation, transportation, and sale of any alcoholic beverages from 1920 to 1933.
The challenge is to transform this derelict 1947 Ford coupe into an outlaw speak easy on wheels. Complete with a fully functioning whiskey still. The ford's flat head engine will also run on the alcohol produced by the still. The Monster Garage team can only spend $5,500 on parts and has five days to build the car.
 Jesse tells the team they're going to make a Moonshine still, but disguise it as a "Fat Fendered" 1947 Ford. This thing should drive out on it's own power and make whiskey. We will distill our own booze and car fuel. The 1947 Ford sat outside "Rusty The Mule" bar for 10 years before Jesse rescued it. 
Arthur Werchan is eager to please Jesse after being scolded for hammering a part on Jesses' "machined" top work table. On day 4, Arthur stresses out about revising his retractable drawer for the distiller. Jesse says it won't extend out far enough. It needs a turnbuckle system to increase the travel from 22" to 50".     
Jesse James' Shotgun Whiskey mobile distillery utilizes a two stage heating system. It draws heat from the Ford's radiator and exhaust to warm the mash in the copper pot. The large copper pot is heated to 180F and drains the alcohol into the copper condenser or "hooch".  
The 1947 Ford was given a custom paint job, "Jesse James Shotgun Whiskey" airbrushed by West Coast Choppers. This was another good episode with the right combination of education and drama to keep you watching. 
S1 E6, Chev's Got Shingles 1/24/2021
Episode 5 of the New Monster Garage starts with Jesse James announcing "This is a really dumb idea." The goal is transform a Chevrolet Dually Duramax 1 ton Pickup truck into a mobile "Shingle Mill" within 5 days. 
Del is the antagonist in this episode of Monster garage. He damages some of the Monster Garage equipment and accuses Jesse of not leading the team. Del's son's Casey yells "Anyone know where our fearless leader is at?" while trying to find Jesse. Del responds with  "He's probably sleeping in and working on another wife." The reality was that Jesse was at his home shop fabricating the carriage to hold everything in the back of the truck.
Terry Wilson brings a great positive attitude and comedic relief for the team.
Terry suggests that Rae gives the exhaust tip extension a custom look. Rae Ripple cuts the Monster Garage logo into the truck's tailpipe. Terry shows the finished piece to Jesse James. He's annoyed Rae wasted two hours on doing the design instead of making further progress on the truck. 
Jesse James' French Bulldog sits on the couch in the Monster Garage while watching the team fall behind on the shingle chucking Chevy.  
Andy carried the weight of the 
One hour left and Jesse James reminds the team they didn't make a chute for the shingles. "You can't put your arm near those saw blades when grabbing shingles, and I can't have somebody lose their arm on Monster Garage." 
"I bet you wish you had those two hours back, instead of wasting them on a custom tail pipe."  
We see Jesse James in a large field with the truck. He uses a handheld dynamite detonator to blow it up. He drives off into sunset in his Hummer.
I give the 5th episode of the new Monster Garage 5 out of 10 stars. You learn about shingle milling, but did anyone ever care to know? I felt empathetic to the team's mediocre feelings about the project. Rae and Andy were fans of the show and had fun making the exhaust tip instead of long safety chutes. This was the second failure for this new season of Monster Garage and seventh in the history of the show.
S1 E7, Back to the Delorean 2/01/2021
Fans will love this episode of the new of Monster Garage series. Jesse seeks redemption for his Delorean Hovercraft build failing seventeen years ago. 
Jesse starts episode by promising "Let's make this one bigger and badder than before." This new Delorean Hovercraft will utilize a gas turbine helicopter jet engine instead of V8 engine used in the original concept.
Rick Gendreau was the first man kicked off a Monster Garage episode. Jesse invited him back to redeem himself. "I'm happy to tell you you're not the only guy to get kicked off Monster Garage." Rick was a key player in the fate of the first Deloren Hovercraft failing. "You think this is funny? That's a Hovercraft decorated like a Delorean. You see me laughing? Get the fuck out of my shop!" 
"This time I'm going to be the best I can. I think what happened last time is that I didn't come with the right attitude."
Jason Kuehn's inaccurate measurements and lack of communication could make this build another failure. Jesse and other team members had already fabricated parts and made modifications before learning from Jason they needed to be changed. 
"You guys gotta figure out what the fuck you're doing. We can't be making the same parts over again with only few days left. I'm not making anything else until you guys figure out what the fuck you got going on."  
Last minute revisions and remaking parts could keep this Monster Garage redemption build from finishing by the deadline. Jesse is becomes annoyed.
There was a lot riding on this build being finished! Jesse is very pleased with the final results. It's really fast once you learn how to drive it.
Jesse asks "Did it look cool?!" He wished Rick was there to experience it.
I give the 6th episode of the new Monster Garage reboot 10 out of 10 stars. It has a perfect combination of edutainment and drama. Jesse was happy to see the first guy kicked off the show to be given another chance for redemption. 
S1 E8, A Rampage at 200mph 2/08/2021
Jesse James tells the team he wants break the Monster Garage 200mph car build curse! This time we'll have a 1200 hp Texas Speed engine.
"Could you pick an uglier car to start with?"
Jesse James tells his "superstar" build team that Monster Garage has attempted to build a 200 mph car in three past episodes. The Toyota HELLICA almost achieved it at 195 mph. In this episode of the new Monster Garage he wants to make this old Dodge Rampage reach 200 mph. The build team is speechless.
The team will add 8" to the wheelbase of the Dodge Rampage, so it's more stable when Jesse attempts to reach the 200 mph goal of speed! The Roadster Shop sent the Monster Garage team a new chassis to make things easier.
Robby Woods realizes he made the angle of the chassis extension too steep. It doesn't follow the Rampage body lines, so they've got to revise the design. 
Greg Hogue guides the 1200hp Texas Speed engine into the custom chassis.
Tommy Delago scolds Greg Hogue after he breaks an ignition coil wire connector by hammering on it.   
Jesse James grinds opening in the Rampage for his custom exhaust pipes.
The Dodge Rampage was built in five days! The final result of this Monster Garage project car build is the best I've seen in the entire series. If Jesse were to offer diecast models for this season, I'd be interested in getting this custom Dodge Rampage from the new Monster Garage series on Discovery+.
172.8 mph on fourth attempt at 200 mph. 
Interesting that Jesse didn't destroy the Dodge Rampage for being a failure at achieving 200mph. He said he could feel the car wanting to go faster, but the throttle cable broke. The Monster garage 200mph car build curse continues...
Hopefully Jesse brings back the new Monster garage for another season and attempts this record again with another project car. I give the 6th episode of the new Monster Garage season reboot 10 out of 10 stars. The build team did a kickass job on the car build in only fiver days! It's the best car build in my opinion of the new Monster Garage series.
It was a great season with several of the builds influenced by Jesse's new life and garage location in Texas. The ending results of the Harvester dragster or Moonshine Rod in Long Beach California wouldn't have been the same.
Sadly episode eight was the last episode of the new 2021 season of Monster Garage. I hope this season of the new Monster Garage brings back old fans and creates new ones, so Discovery asks Jesse to do another season next year. 
---
11 comments