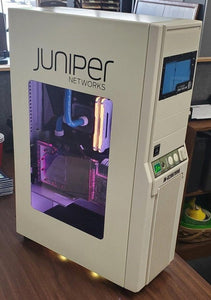 Awesome Rare, Retro & Sleeper Gaming PC Builds & Case Mods Gallery.
Michael Morgan's Retro PC Gaming Room is referred to as his personal "Time Tunnel." It propels him back to the mid 90's golden era of 386 and 486 chipsets, Voodoo 3D Graphics Cards, Pentium 1s and AMD Athlon Thunderbird Desktop PCs.   
Do you remember these popular PC games from 1998?

1. Half Life
2. Grim Fandango
3. Thief: The Dark Project
4. Baldur's Gate
5. Railroad Tycoon
6. Starcraft
7. Myth II: Soulblighter
8. Shogo: Mobile Armor Division
9. Fallout 2
10. Falcon 4.0
Vintage retro Gaming PC built by MS-DOS Manfred. 

Do you remember the cheap E-machine desktop PC's? Retro and "Sleeper" Gaming PC builds and case mods are hot right now. Here is some awesome examples we've found. We've also got some awesome original vintage desktop PC's from the Pentium and 286, 386, and 486 chipset era.
The first one is a tribute to 1998 with it's original retail stickers. This custom build is by Nick Burp. The case is an E-tower 566 MHz from 1998. The updated hardware features Nvidia GTX 1080 Ti GPU and vintage Intel 130W Xeon E5-2667 v2 processors. "Wow, what a difference that made for 1998 PC gaming! 
Nathan owns a vintage ANTEC SOHO with custom laser cut PC fan grills Amoeba style side window with black PC window u-channel from Mnpctech. 
Derek's Pentium III Retro Sleeper gaming PC Build with custom RGB lighting and 3DFX graphics card with Yamaha XG sound card. 
This is Doogie's HP 9000/312 Desktop PC Computer from 1988!

Doogie says "This computer was once used on a factory floor to calibrate fuel flow meters for fighter jets. I have restored it to fully working order, written my own programs and more!" The PC printer was HPs very first inkjet! I have a 68030 CPU card from a 9000/335, and some other goodies as well!"

Marcin's Retro PC Pentium 133Mhz 32MB RAM + S3 Trio 64 2MB + Sound Blaster + Maxtor 1,2GB
This custom "Retro PC" build and case mod is by my friends Bob Stewart and Rod Rosenberg at
BS Mods
. The vintage Server case has a real Turbo button. The hardware inside is powered by AMD Ryzen with custom liquid cooling. The coolant lines. All of the cables are individually sleeved.
Mitch's Vintage IBM Personal System 2 Model 60 Computer Type 8560-071 Intel 286 is a great candidate for a Sleeper PC Build and Case Mod.
Mitch's Retro & Sleeper Style Vintage ATX Tower Gaming PC build has Pentium 1 processor with rare Voodoo 3 video card by 3DFX.
---
1 comment