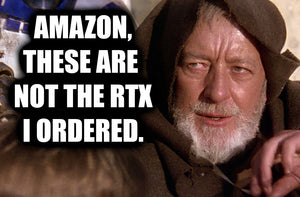 Amazon Warehouse Rip-Off Scam Angers More Consumers.
On May 13th, 2019, Mnpctech Modder, Jacques revealed how he ordered three ASUS ROG Strix RTX 2080 Ti Video Cards from Amazon Warehouse. In the video he reveals how all three cards looked like RTX 2080 Ti's, but are actually GTX 1060 and GTX 1080 Ti models. He then realized he was scammed. 
Here is how the Amazon Warehouse scam is perpetrated.
1. Scammer purchases a ASUS ROG STRIX RTX 2080Ti Video card for $1,1540 from Amazon Warehouse.
2. Scammer receives 2080Ti. They remove serial number (sticker) and apply to a downgraded version (2060/1080Ti) video card ($300 value) and return this cheaper card to Amazon Warehouse in the ASUS ROG STRIX 2080Ti packaging.
3. Amazon Warehouse staffer casually looks at the card. It looks like the 2080Ti, so they refund the scammer $1,1540.
4. Scammer now owns a new 2080Ti for nothing. They can keep the card it or resell for cash. Or possibly do the scam again with the next generation of the card.
What Is The Solution?
I can't think of any product valued over $1,000 that has a sticker for serial number. Manufacturers need to permanently print or etch visible serial numbers on their premium priced video cards or similar products. Amazon Warehouse needs to evaluate why these are slipping thru and educate their staff about it. My prediction is that gpu manufacturers won't create a solution until more people complain. The solution suggested above would require adding another stage to production in their factory. 
After publishing that video, Mnpctech has been hearing from more PC builders who are Amazon Warehouse consumers. The amount of people dealing with this scam after purchasing ASUS RTX 2080Ti video cards is growing. 
Warn your friends about this scam!
---