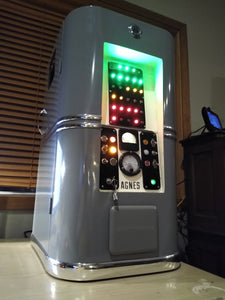 AGNES Computer Is Dieselpunk Case Mod & Retro PC Build by IndustrialDweeb.
IndustrialDweeb crafts steel cabinet into computer inspired by 50's era technology. His vintage retro-style computer theme build turned out great. He named it AGNES.  It has a bit of an Atompunk or Dieselpunk vibe about it.
IndustrialDweeb said he drew his additional inspiration this photo and the original Star Trek and Twilight Zone television series. He was also inspired by the Fallout PC Games. It has design aesthetics that remind you of 1950's / 1960's home counter top appliances or a refrigerator. The chrome trim was a nice touch.
He has background in sheet metal and auto body fabrication and it shows. The retro-vintage computer shell looks like an electrical appliance from the 1950's. 
The front of AGNES computer case has this really cool control panel inspired by 50's era retro-style electronics computer. IndustrialDweeb combined old LED's gumdrop light bulb lenses, toggle switches and round vintage gauges. You can find these types of vintage electronics lights and switches on Ebay. 
Mnpctech is also a great source for computer and PC modders seeking / desktop PC toggle switches and anodized push button PC power or reset switches for custom builds or pc case mods.
IndustrialDweeb did a great job on his PC case mod creation. We think "Dieselpunk" is a great description of his AGNES desktop PC case mod. We hope that he someday shares another creation that will inspire PC Case Modders. 
---