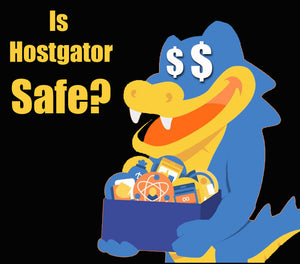 Is Hostgator And Bluehost Safe? Only If You Use Offsite Backups!
Our host,
HostGator
was hacked on their side. The hacker deleted everything on our Dedicated IP VPS server including backup copies. The hacker then uploaded websites onto our Dedicated IP that generated phishing scam emails. Hostgator suspended and locked us out of our account, because their security system assumed we had created these phishing sites.
I spoke with HostGator support at 8am. They created an escalated ticket. Nine hours later and still no response to our support ticket, I called Support again and luckily got somebody that would allow me to view our Server IP thru a screen share with. 
HostGator Support: "Which website is yours?" 
Me: "What do you mean?, I only have one".
Our server's IP was filled with 30+ generic websites. Our site was gone.
HostGator Support: "They've deleted previous backup copies and turned off automatic backup copy"
Me: "There is no backup copy ......anywhere? ...." 
Hostgator Support: 
"No, I'm sorry."
I wanted to go immediately into anger mode, but operating e-commerce store teaches you that anger is wasted energy. I was naive to believe Hostgator had our back just because we paid for their "premium VPS service." 
Mnpctech is a full time income. Every hour that goes by is lost revenue. I immediately started evaluating what was needed to get our store back online. Luckily, Derek from
PC Doodle
 Computer Service in Minneapolis called. I told him what happened and he strongly recommended Shopify. We had our store URL moved to Shopify that night and was already uploading our inventory. Derek's recommendation to move to Shopify saved many hours of deliberating our next move in a state of panic. 
-
-
We later discovered that Hostgator and Bluehost are owned by EIG. A simple web search will reveal that many customers have had their sites hacked. Here is the 
Google search results for Hostgator Hacked. 
Hostgator has also been getting a lot of controversy over their Sitelock service. The comments under this
article
were very scary and enlightening.  
If you're already on Hostgator / Bluehost, I strongly recommend having an external backup copy of your site made on daily basis. We left Hostgator hosting service on November 21st and moved my e-commerce store to shopify with daily external backups.
-
Mady Tortis
---