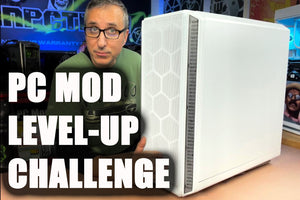 Intel's PC Mod Level-Up Challenge & Giveaway Announced!
On October 27th, I announced "The greatest PC Modding Competition in my 21 years of PC Modding!" during the Intel Creator Challenge Finale Livestream.
Enter the PC Mod Level-Up Challenge on Intel's TechMesh site now.
The theme of the contest is "Future of Innovation." Wow, this could mean so many things, right? If you really want to impress me and the other Judges, do something that blows our minds away versus another boring hardline PC build with RGB and stickers. You don't have to leave that bequiet 802 case stock! 
Suffer from short attention span? then go directly to contest page below!
Enter the PC Mod Level-Up Challenge on Intel's TechMesh site now.
Seven people will be chosen based up their ideas submitted for what "Future f Innovation" means to you. Read and follow the directions closely. I've noticed people are not reading the directions and they're submitting their own PC mods to the Project group. These will be ignored or deleted! 
Mosquito Mods assisted me during the Intel Creator Challenge Event, that is why his Youtube channel is published during my live segments. He's got some great PC Modding projects on his channel, so check it out and subscribe!   
Where's the RGB in that bequiet PC case? Impress us without it and really think about how you can do something spectacular and different!
I've been involved with countless multiple PC & Case Modding Contests since the year 2000. My involvement with past PC Mod competitions involved every facet from hosting, organizing to judging and competing. I stopped competing in all PC Modding competitions in 2016. Some competitors in Cooler Master's 2016 Case Mod World Series event felt that me owning Mnpctech gave me an unfair advantage. I do own a fully equipped fabrication shop where I can dream and build almost anything, so I politely obliged to bow out of that event and all future related PC case mod competitions.      
Updated 12/6/21
The Intel PC Mod Level-Up Challenge Finalists Announced.
After careful consideration from the Intel panel of judges, they have identified our seven (7) finalists who will receive an email shortly for next steps. The finalists are as follows (in alphabetical order):
Attila Palvolgyi (Carbon Zero)
Brian Carter (U.S.S. Innovate)
Constantin Bucatau (Blue Dragon)
Craig Ferrie (CONNECTED)
David Greenberg (The Green Machine)
Hexacore (Intel Brain Lab)
LarsBrady (MLaiDOS)
---