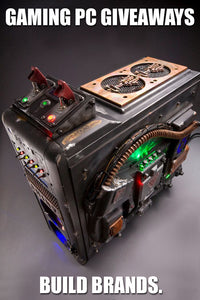 Hire Mnpctech To Build Gaming PC Case Mod To Promote Your Game Release.
Using Mnpctech to Advertise Or Market Your Video Game!
Hosting Giveaways boosts your following on Social Media. 
Engaging content will always be a step in the right direction for maintaining a fan base, but if you're trying to break out of your niche, you need something that will draw attention and drive traffic.
 Mnpctech is one of the leading purveyors of custom-built PCs and providers of digital content that is proven to garner hype for upcoming projects.
Why You Should Use Mnpctech to Advertise Your Game?
Mnpctech has a large audience in the case-modding niche that has great overlap with the Pc Gaming market. 
Mnpctech as a Case Mod and Pc Modding store has over 1300 pages and averages over 40,000 users of site traffic every year*
The Mnpctech Facebook Group that has over 40,000 likes and approximately 3000 active members. 
 The Mnpctech YouTube Channel has nearly 73,000 subscribers and over 25 million collective video views.
If you are looking for strategic and savvy ways to market your up and coming media release, Mnpctech provides a complete market eco-system filled with an established user base that directly overlaps with your target demographic.
*=Based on metrics pulled from August 2018 to August 2019.
How Mnpctech Drives Traffic To your Media?
Mnpctech is spearheaded by Bill Owen, who has been in the industry for 20 years. The products and the maker speak for themselves.
We are going to custom-build a case modded gaming rig that resembles your media and helps augment the experience. 
The parts will be ordered in adherence to your requests and corporate partnerships so that there is a unified brand push for your product.
The Case will be completely custom-built to whatever features that can be discussed in further communication. (See Examples Below)
 Every Case release will have a three-part video series created on our YouTube Channel and will be featured on spread across our entire social media hierarchy (Twitter, Facebook, YouTube; etc.)
 Additionally, your studio will be cross-referenced and posted so that we will drive traffic to your brand, not exclusively your product.
 Upon completion, you are free to do whatever you want with the case mod, the most common option is to feature it in a giveaway leading up to the release of your game. I encourage releasing game play features and additional dev diaries in the build-up for related video sharing and suggestions via YouTube's algorithm.
Successful Mnpctech Case Study (No Pun Intended)
The Mnpctech built product is always going to be built successfully and stands the test of time in numerous battle station and case modding communities. 
 Like contracting a painter to do a portrait, we are creating an all-encompassing piece of art that also serves to be functional and a cut above today's standard, meaning the recipient will always be able to play your game and not worry about Upgrading for years to come.
Metro Exodus Giveaway Gaming PC By Mnpctech
Our most recent collaboration has been with 4A Games, and Deep Silver garnered a successful brand awareness campaign for the game and garnered some intense hype. 
We created a fully functioning computer inside of a steam-powered case mod. This featured old-Russian era-inspired graphics and steel parts to give the aesthetic of a device that is both of the world and in reference to it.
A three-part YouTube series about the construction of the machine was created and garnered over 40,000 views from our loyal community.
 Through Twitter, there were over 1,000 retweets of Mnpctech individual tweets featuring the progress and the final unveiling of the build, but there was also press publications and additional shares and tweets from different members of the community up to 4 months after the build was completed proving that the long-term marketing efforts of having a build can be instrumental.
 We worked with Corsair to maintain and host a giveaway for them; this large-scale collaboration brought extra traffic to the campaign and helped boost submissions and awareness. By the time the contest window had closed, the build had secured 131,000 entries.
 Even with overlap from multiple markets, working with Mnpctech in a similar fashion to how this giveaway was handled would present your upcoming media project, game, or software to upwards of over 100,000 independent users who are all deeply invested in the community and are a viable demographic for your business.
Reviews from Past Clients of Mnpctech Gaming PC Builds For Giveaways.
"As always Mnpctech has been great to work with, and the METRO EXODUS PC is amazing!  I will definitely keep him in mind as I have projects come through.
- Adam Jackson, Corsair.
"Very happy, Our giveaway campaign of the Cooler Master Dirt Rally 2.0 PC created by Mnpctech reached 253,000 entries!"
- Jurgen in 't Zandt, Cooler Master.
"Mnpctech is pretty much king of the hill when it comes to customizing computers"
-Rick Compton, Nvidia
"Bill has done numerous memorable projects with everyone from Antec, Corsair, AMD, Intel, Asus, Nvidia, EVGA, EK, Western Digital… Quite honestly every manufacture at one point or another. He has also been showcased in basically every tech journal (from Forbes to PC World and everyone in between)
-  Anthony Garland, Seagate
"Bill does incredible custom system work and built us an amazing tank PC for Battlefield 1 a couple of years ago for a promotion."
-Peter Ross, AMD
Let's Work Together!
If there's any key takeaway from this proposal it's that this community sticks together. Part of why many of us are in the industry through our various investments is because we've all been involved in the same activities for a long time. 
Many of us have spent our time in a garage fiddling with getting the components in the correct space or admiring each other's handy work.
We don't encourage this as a total replacement for your marketing, but if you want to bring awareness or at least entertain the concept of creating a giveaway and having a work of art generated in tribute to your game or media project, give me a call or send me an e-mail. I'm always able to talk and share my excitement for whatever's coming up in the future.
This is the portion where we feed the Google Spiders.
build gaming pc case mod for giveaway, Custom PC Builder / Modder For E3 Display and Giveaway, Custom PC Case Modder Builder For GDC Game Developer Event, gaming giveaway PC to promote game release, Hire Custom Gaming PC Builder in Minnesota, Hire Custom Gaming PC Builder in New York, Hire Custom Gaming PC Builder Modder for C3AFA Hong Kong, Hire Custom Gaming PC Builder Modder for DICE Europe Event Giveaway, Hire Custom Gaming PC Builder Modder for DICE Summit, Hire Custom Gaming PC Builder Modder for Dream Hack Booth, Hire Custom Gaming PC Builder Modder for DUBAI Gaming Event, Hire Custom Gaming PC Builder Modder for Esports Event Giveaway, Hire Custom Gaming PC Builder Modder for Esports Summit Event Giveaway, Hire Custom Gaming PC Builder Modder for Game Design Summit Event Giveaway, Hire Custom Gaming PC Builder Modder for Game Developer Industry Giveaway, Hire Custom Gaming PC Builder Modder for Game Developers Session Event Giveaway, Hire Custom Gaming PC Builder Modder for GameOn Event Giveaway, Hire Custom Gaming PC Builder Modder for Games Con Event Giveaway, Hire Custom Gaming PC Builder Modder for Gamescon Event Giveaway, Hire Custom Gaming PC Builder Modder for GDC Event Giveaway, Hire Custom Gaming PC Builder Modder for Insomnia65 Event Giveaway, Hire Custom Gaming PC Builder Modder for LA Games Event Giveaway Conference, Hire Custom Gaming PC Builder Modder for Pax East, Hire Custom Gaming PC Builder Modder for Pax South, Hire Custom Gaming PC Builder Modder for Pax West Event Giveaway, Hire Custom Gaming PC Builder Modder for PG Connects London, Hire Custom Gaming PC Builder Modder for Quake con Event 2020, Hire Custom Gaming PC Builder Modder for Tokyo Event, Hire Custom Gaming PC Builder Modder for Tokyo Game Show Event Giveaway, Hire Custom PC Builder Modder For GDC Giveaway Booth Display, Hire Custom PC Modder For Computex, Hire Gaming PC For Facebook Giveaway, Hire PC Builder Modder for CES, Hire PC Modder For Pax Event Booth, hire pc modder for pc case mod giveaway, PC Builder / Modder for GDC Event 2020, PC Builder To Make Computer To Promote PC Game Release As Giveaway, PC Thermaltake Builder To Make Computer To Promote PC At Computex 2020, Promote My Game Release With Giveaway, promote PC game release with giveaway 
---
5 comments