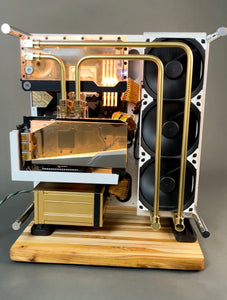 Elevate Your Game Release: How Mnpctech's Gaming PC Mods Can Supercharge Your PC Game Release
Are you looking for a way to supercharge your PC game release?
Look no further than Mnpctech's custom gaming PC mod! Contact Mnpctech for their revolutionary designs, they guarantee to take any standard game console and give it an incredible facelift that is sure to wow gamers from all walks of life. For the indie developer trying to establish an awesome presence in the PC arena or the AAA studio who wants heightened attention around launch week – this modification will do both and more! Get ready for your ultimate game reveal with Mnpctech's "Elevate Game Release" service - because nobody does outrageous confidence quite like them.
Outer Worlds Custom Gaming PC Built For Giveaway Campaign by Mnpctech.
1. The Game Release Campaign Strategy
The goal of the game release campaign was to create a unique experience that would draw attention to the launch of our new game. To accomplish this, we partnered with Mnpctech, an industry leader in custom PC modding, to design and build a one-of-a-kind gaming PC mod inspired by our game. This project required careful planning and collaboration between both teams in order to make sure that all aspects of the project were completed on time and within budget.

2. Collaborating with Mnpctech
Mnpctech is an experienced team of modders who specialize in creating custom gaming PCs for their clients. We worked closely with them throughout the entire process, from concepting and designing the mod to building and showcasing it. They provided us with invaluable insight into the world of custom PC modding, as well as access to their extensive network of modders and influencers.

3. Designing the Custom PC Mod
Once we had established our partnership with Mnpctech, we began working together on designing the custom PC mod inspired by our game's theme and aesthetic. We chose components based on performance requirements as well as aesthetic considerations such as color scheme and lighting effects. We also decided to include a unique feature—a fully functional arcade cabinet—that would be used for showcasing the finished product at events and conventions.

4. Building the Masterpiece
Once we had finalized the design for the custom PC mod, we began building it using high-end components sourced from around the world. Every component was carefully chosen for its performance capabilities as well as its aesthetic appeal, ensuring that every aspect of the build was of top quality. The entire process took several weeks to complete but resulted in a truly stunning piece of art that exceeded all expectations.


5 Showcasing the Finished Mod
Once we had completed building the custom PC mod, we showcased it at various events and conventions across North America in order to generate buzz around our upcoming game launch. We also created promotional videos featuring gameplay footage from our game running on the custom PC mod, which further increased awareness about our game among gamers and tech enthusiasts alike.

6 The Giveaway Campaign
To further increase engagement with our audience, we launched an online giveaway campaign where users could enter for a chance to win their own copy of our game or even get their hands on an exclusive copy of the custom PC mod built by Mnpctech! This campaign proved to be incredibly successful in terms of user engagement and helped us reach a larger audience than ever before.
In conclusion, there's no doubt that an Mnpctech Custom Gaming PC Mod will help attract more gamers and build your online community. Think about how great it would be to show off a handcrafted gaming PC Case Mod that accurately reflects the world of your favorite PC game? Your followers and potential new members will love viewing captivating photos and video clips on your social platforms showcasing the beauty and uniqueness behind your PC game Mnpctech Gaming PC build. And don't forget; you'll have our team of experienced builders at your disposal to help coordinate progress clips for maximum engagement with your followers. The bottom line is, if you are looking to boost the growth of your PC Game's online community, give away an Mnpctech Custom Gaming PC Mod!
Show what type of PC Game you have and Contact Mnpctech
---