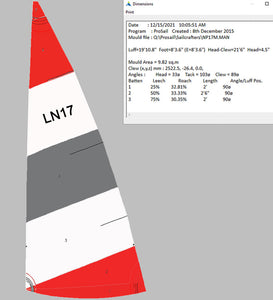 Buying New Sails For Newport 17 Sailboat from Sailcrafters in St Louis Park, Mn.
The sails on my Newport 17 are 47 years old. It's beyond the time to take plunge and buy new sails for the Newport 17. The old factory sails were fine for learning, but I'm curious if new sails will make N17 more responsive on low wind days. I was told by Veteran Sailers that stretched sails will cause the boat to heel more as the sails are not performing properly. Our Newport 17 likes to heel a lot.
Our only local resource for getting new sails made in Minnesota is Sailcrafters in St. Louis Park, Mn. I was told by Carl at Sailcrafters that the owner, Tim's Sail Maker Loft is the only one left in the Midwest.
I dropped off the sails on 12/10/21. Carl told me he would have to measure my sails before he could write up the estimate. Under Carl's advice, I'll be getting 6 ounce Dacron Sail Material "Super Cruise" with Cross Cut Pattern Stitch. The sail material is cut by Sailrite.com and then shipped to Sailcrafters. 
Carl emailed me estimate On Monday, December 13, 2021, 10:10:25 AM CST:
Hi Bill,
Happy Monday! We just measured your sails and have an estimate drawn up for building you a new set. A new main at 82 sq/ft and built with an upgraded cloth will be $675. The red jib with hanks at 60 sq/ft is $500. I will write up a proper estimate later today and email that to you so you can put down the 50% deposit whenever you're ready. If you have any questions before that, feel free to call our shop or email me. I do have a few questions for you: Would you like the "LN17" on your mainsail to be blue, black or red? Do you want us to re-use the hanks from your old jib to put on the new one? This would bring down the cost by $25. 
On December 13th, I phoned Carl at Sailcrafters to ask a couple of questions.
"
Hey Carl, Will I see the main sheet pattern in your quote before I make the deposit? He responded with "
After making 50% deposit, I will submit your order to Sailrite and they will send me the sail color map, so I can email that to you for your approval."
Carl emailed me On Wednesday, December 15, 2021, 5:00:00 PM CST:
Bill,
Here are the sail maps for you main and jib.
Main Sheet Map details for Newport 17 Sailboat from Sailcrafters @ $675.00
Jib Sheet Map For Newport 17 Sailboat. This will be Solid Red @ $500.00
Thursday, December 15, 2021, 5:00:00 PM CST, I emailed Carl with my color map. 
I never heard back from Carl after emailing him the color map. I assumed everything was fine, but realized on 1/24/21 when picking up my new sails that I should have followed up with Carl after not hearing back from him.
------------------------------------------------------------------------------------------------------
Thursday, January 20, 2022, 5:11:00 PM CST, I receive Invoice from Sailcrafters in St Louis Park for the balance due of $675.92 and paid it.
------------------------------------------------------------------------------------------------------
Monday, January 24, 2022, 1:22:00 PM CST, I arrived at Sailcrafters to pick up my new sails. 
I met the owner, Tim and had a great conversation about sailing and he shared advice about updating my Newport 17's rudder through Rudder Craft. I regretfully neglected to open the bag with my new sails and confirm everything was done correctly. I checked the sails after arriving back to my shop. Everything was correct, but the Main sheet was all white, not the horizontal White-Grey-Red color pattern I emailed Carl. I phoned Tim and he said he never received the color map drawing. He said Carl no longer worked from him. Tim said there wasn't any mention of the color map in the order, but that he would take back the main sheet and redo the order. 
------------------------------------------------------------------------------------------------------
Monday, February 14, 2022, 9:25:00 PM CST, Tim emailed me that the correct sails were ready for pick-up. This time I checked that everything was correct.
------------------------------------------------------------------------------------------------------
Thursday, June 30th, 2022, 2pm CST, I tried out the new sails on Lake Nokomis.
The new mainsheet is loose foot, which allows the sheet to balloon outward and capture more air, which makes it more ideal for sailing on low wind days. You need to add "outhaul" rigging to the end of the boom on Newport 17, so you can adjust the mainsheet position along the boom.  
Are these new Newport 17 sails better than the old ones?
You can tell a difference immediately. When I raised the mainsheet at the dock, the new "Cruising Sail Cloth" reacts to the wind faster than the old sails. On the water and changing tacks. it took me a few times to get used to how much faster the mainsheet and jib capture the wind. The lighter material also easier to fold the mainsheet over the boom at the end of the day. I can wholeheartedly recommend spending the $1,300 for new sails for your Newport 17 sailboat. The colored cloth also updates the overall look of the sailboat. 
---